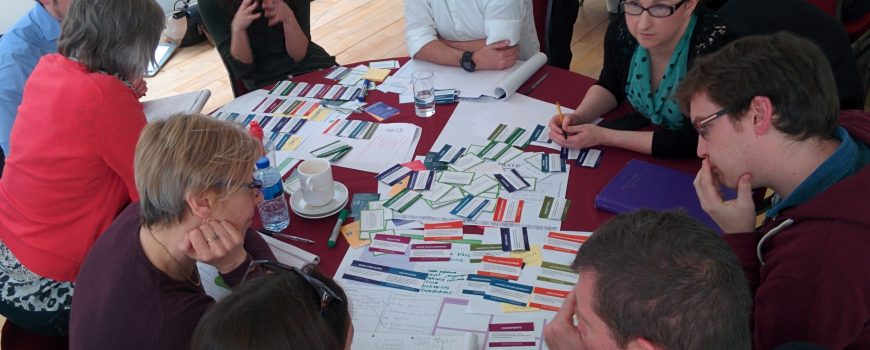 Learning Design: State of the art, tools of the trade
Learning Design, as a professional discipline and a field of research, is gaining recognition. We are witnessing a growing awareness in Europe, the US, Australia and Asia. In particular, several interesting learning design tools have been developed in recent years. This event will introduce participants to state of the art concepts, approaches and methodologies through the perspectives of four teams. Each team will showcase their tool, and share insights they have gained from developing this tool and using it with educational practitioners. Participants will have an opportunity to try these tools, and consider their value for staff at their institutions. 
בשנים האחרונות אנו עדים להכרה גוברת בערך של עיצוב למידה, הן כגישה מקצועית לעבודה חינוכית והן כתחום מחקר ופיתוח. באירופה, באסיה, בארה"ב ובאוסטרליה עולה המודעות לתפיסות של עיצוב למידה. יותר ויותר מוסדות אקדמיים משלבים כלים ותהליכים של עיצוב למידה במחזור פיתוח התכניות והקורסים שלהם.
יום העיון הזה יציג בפני המשתתפים את חזית העשיה בהמשגות, גישות ושיטות העבודה בתחום – דרך נקודת המבט של ארבעה צוותים מובילים. כל צוות יציג כלי שפיתח ויספר על התובנות שעלו מהפיתוח, ההטמעה והשימוש בו. למשתתפים תינתן ההזדמנות לנסות את הכלים ולהעריך את תרומתם האפשרית למוסד בו הם עובדים. 
Schedule
8:30

Registration

9:00

Greetings: Eli Shmueli, Meital

9:15

Opening Keynote: Yishay Mor, Meital – the art and science of learning design

10:00

Shirley Agostinho, UoW: the LDTool and the Problem Generation tool – teaching teachers to think as designers. https://needle.uow.edu.au/ldt

10:45

Davinia Hernández-Leo and Laia Albó, UPF: The Integrated Learning Design Environment and edCrumble – tools, toolkits and methodologies. https://ilde.upf.edu/about/

11:30

break

12:00

Diana Laurillard and Tim Neumann, UCL: The Learning Designer helps create, adapt, share and export learning designs.

12:45

Nancy Law, HKU: the Learning Design Studio HE – A tool to support teaching professionals in the design and implementation of fully online and blended courses. https://ldshe.cite.hku.hk/

13:30

Lunch

14:15

Hands-on experience: design a course with one or more of the tools.

15:15

break

15:40

Nadav Kavalerchik, Meital: The LDConnector – a Moodle plugin for importing Learning Designs

16:00

Panel discussion: the promises and challenges of learning design tools

Yael Kali, Yishay Mor, Laia Albó, 
להרשמה – Registration
Presenters
Dr Nancy Law is a professor in the Faculty of Education at the University of Hong Kong. She served as the Founding Director for the Centre for Information Technology in Education (CITE) for 15 years from 1998. She is a Fellow of the International Society of the Learning Sciences. Prof. Law's research interests include international comparative studies of technology-enabled learning innovations, models of ICT integration in schools and change leadership, computer supported collaborative learning and the use of expressive and exploratory computer-based learning environments. She is working in the development of a learning design pattern language and an associated platform, the Learning Design Studio, which is part of a multi-disciplinary and multi-institutional Project involving HKU, HKUST and MIT in the development of An Open Learning Design, Data Analytics and Visualization Framework for e-learning.
Associate Professor Shirley Agostinho is internationally recognised for her work in learning design. Shirley has more than 20 years experience in the design, development, implementation, evaluation and research of learning environments supported by the use of digital technologies. Her research focuses on investigating teacher design practices, how teachers can effectively integrate digital technologies into their teaching, and how learners can support their own learning using digital technologies.
Dr. Davinia Hernández-Leo is Full Professor at the Department of Information and Communications Technologies Department (DTIC) at UPF, the coordinator of the Interactive and Distributed Technologies for Education group (TIDE), Vice-Dean of the UPF Engineering School and the Head of its Unit for Teaching Quality and Innovation. She obtained a degree and a Ph.D on Telecommunication Engineering at University of Valladolid, Spain, and has been visiting researcher at Open University of the Netherlands, Fulbright Scholar at Virginia Tech and visiting academic at the University of Sydney. Her has (co-)authored over 100 scientific publications and received several awards, including best paper awards and the European award for excellence in the field of CSCL technology. She has also received Teaching Awards (Vicens Vives) and the ICREA Academia Award from the Catalan Government in 2019. Currently, she is the Vice-President of the European Association for Technology-Enhanced Learning, a member of the editorial board of the IEEE Transactions of Learning Technologies and the Steering Committee of the European Conference on Technology-Enhanced Learning.
Dr. Laia Albó, Postdoctoral Researcher at Universitat Pompeu Fabra
Professor Diana Laurillard, Professor of Learning with Digital Technologies, UCL Knowledge Lab. Formerly Head of the e-Learning Strategy Unit at Department for Education and Skills (2002-5); Pro-Vice Chancellor for learning technologies at the Open University (1995-2002); Harvard Visiting Committee on IT (1999-2002); Dearing Committee (1996-7). Recent book: Teaching as a Design Science, Routledge. Current projects are based around MOOCs as a research tool, collaborative knowledge building for professionals, developing the Learning Designer as a web-based design tools for teachers, and digital games for dyscalculia. 
Tim Neumann, Head of the Learning Technologies Unit at the UCL Institute of Education
Lecturer in Education and Technology and leader of the MA module Learning Design for Blended and Online Education. The Learning Technologies Unit provides academic advice on technology-enhanced learning, including module design and development of pedagogic activities, and on institutional policy such as the UCL E-Learning Baseline.
Eli Shmueli, Directory, Meital
Nadav Kavalerchik, Learning Technologist, Meital
Dr. Yishay Mor, Consultant, Meital